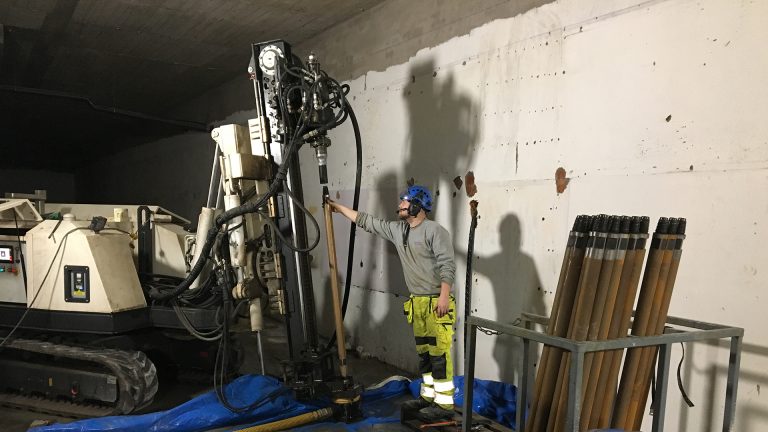 UrbanGeo
UrbanGeo® is a powerful energy-solution from LKAB Wassara that helps transform buildings and properties into sustainable, geo-energy systems.
What is Geo-energy?
A borehole energy storage system is a solution to harness and store surplus heat from buildings and structures, while balancing energy needs across seasons or load cycles.

This stored heat and energy is called geo-energy.
What are the benefits?
A natural battery: Seasonal storage of heat/cold in the ground (unlike just extracting energy from the ground, i.e., conventional geothermal energy).
Energy-efficient: With 1 unit of energy input, you can extract 4 units of energy in the form of heat/cold.
Hybrid solutions with renewable energy (e.g., solar panels in combination with borehole energy storage) create highly efficient and climate-neutral heating and cooling solutions
Our concept and the opportunities
Click on the tabs below to learn more about our powerful energy-solution.
The future of Geo-energy
The world is facing a massive transition to replace fossil fuels. With a large-scale shift, the need to store energy increases to better harness both renewable energy and waste heat.
Geoenergy storage is one of the most efficient ways to store and balance the extraction of both heat and cold. The technology and methods are fully developed, and Sweden is at the forefront of this globally growing market.
Wassara's drilling technology, the same used in LKAB's mines, has shown unique potential for building efficient geoenergy storage, even in densely populated areas, and can be implemented within existing properties. The water-powered drilling technology represents a vital component that, together with selected partners, can support property owners in transitioning to a reliable and improved energy economy – one that is 100% renewable and completely free from carbon dioxide emissions.
With selected partners
UrbanGeo® offers gentle and cost-effective energy solutions for commercial and public buildings in urban environments based on geoenergy, a 100% fossil-free energy source.

Together with selected partners, the Swedish company HP Borrning and the American company Brightcore, LKAB Wassara offers attractive comprehensive solutions with unique competitive advantages that meet the demands of a changing market. The ambition is to be a market leader in selected markets.
Case studies
See our featured Case studies below to learn what real world UrbanGeo-projects our technology has been a part of.